Boy Scouts: 10.5 – 14 years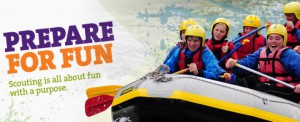 In 7th Goodmayes, our Scout Troop consists of 24 Scouts who are organised into smaller units of six Scouts called a Patrol, led by a Patrol Leader. Outdoor activities feature prominently, with the highlight being camping. Throughout the year, Scouts learn various skills, such as map reading, orienteering, camp cooking and first aid. Rock climbing, rafting, canoeing and mountain climbing are just some of the things they get up to.
Sessions are alternate Fridays 7.15-9.15pm
| Name | Role |
| --- | --- |
| Zahid Sattar | Section Leader |
| Tarak Ali | Assistant Leader |
| Sohail Karim | Assistant Leader |
| Abu Anas | Assistant Leader |
| Shiraj Islam | Assistant Leader |

The Scout Promise
Shahada
I promise that I will do my best
To do my duty to God and to the Country in which I live,
To help other people
And to keep the Scout Law

The Scout Law
A Scout is to be trusted.
A Scout is loyal.
A Scout is friendly and considerate.
A Scout belongs to the worldwide family of Scouts.
A Scout has courage in all difficulties.
A Scout makes good use of time and is careful of possessions and property.
A Scout has self-respect and respect for others.

The Scout Motto

Be Prepared
SCOUT BADGES
Activity badges
Many of the badges available are activity badges, which allow Scouts to show their progress in existing pursuits, but also to try all kinds of new things and form new interests. For more information on these badges click here.
Staged Activity Badges
There are a number of activity badges that can be obtained and accumulated throughout a young person's scouting life. To find out more click here.
Challenge awards
Gaining a challenge badge involves accomplishing a number of more ambitious tasks within the Troop or community. There are several challenge badges across a number of themes, from the physical and outdoorsy to challenges dealing with the local community or issues connected with the Scouting world. For more information on these badges click here.
Core badges
In addition, there are a number of core badges, obtained upon joining or moving on from the Troop, or for time spent in the Scouting movement. For more information on these badges click here.
To find out position of badges on Uniform, please click here.