Boy Explorers: 14 – 18 years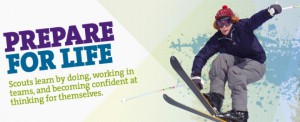 7th Goodmayes have just recently started this section and there are exciting challenges awaiting our Explorers! Next year we will be participating in the Duke of Edinburgh Scheme. Explorers are encouraged to lead themselves in deciding the programme and direction of the Unit, with support and guidance from Leaders. The section also includes the Young Leaders' Scheme, where young people are able to take on a leadership role in one of the younger sections. There is wider scope for activities like offshore sailing, campaigning, performing, parascending, mountaineering and expeditions. Sessions are alternate Fridays 7.15-9.15pm
The Explorer Scout Promise
Shahada
I promise that I will do my best To do my duty to God and to the Country in which I live, To help other people And to keep the Scout Law
The Scout Law
1.A Scout is to be trusted. 2. A Scout is loyal. 3. A Scout is friendly and considerate. 4. A Scout belongs to the worldwide family of Scouts. 5. A Scout has courage in all difficulties. 6. A Scout makes good use of time and is careful of possessions and property. 7. A Scout has self-respect and respect for others.
The Scout Motto
Be Prepared
EXPLORER SCOUT BADGES
There is a wide range of badges and awards available to young people in the Explorer Section.
Activity badges Many of the badges available are activity badges, which represent the pinnacle of achievement in a particular field. Whether their interests lie in Hill Walking or Performing Arts, Aviation or Public Relations, Explorers are rewarded both for developing existing strengths and undertaking new ventures. To find our more click here.
Staged Activity Badges
There are a number of activity badges that can be obtained and accumulated throughout a young person's scouting life. To find out more click here.
Additional Badges and Awards
In addition, there are a number of extra badges and awards, obtained by taking part in particular challenges or schemes. To find our more click here.
Core Badges
There are a number of core badges, obtained upon joining or moving on from the Unit, or for time spent in the Scouting movement. To find our more click here.
To find out position of badges on Uniform, please click here.